Bruno Bobak (1923- 2012)
Bruno Bobak was born in Poland in 1923 and by 1925 his family had settled in Canada. In 1936, in Toronto, Bobak was enrolled in Saturday Morning Art Classes at the Art Gallery of Toronto with Arthur Lismer among his teachers. Bobak continued his studies in visual arts at Toronto's Central Technical School. World War II intervened and he enlisted with the Canadian Armed Forces and was trained as a sapper before going overseas to England in 1943. A pivotal event in March 1944 for Bobak was his winning the Canadian Army Exhibition with his watercolour, "Cross Country Convoy." As a result, he was promoted in rank to Second Lieutenant and became Canada's youngest Official War Artist. Bobak's subject matter as a war artist focused on the aftermath of battles, as opposed to scenes of violent destruction. Being a war artist was formative for Bobak in that it paved the way for him becoming a professional artist. It was during this time that Bobak met and married Molly Lamb, a fellow war artist, in 1945.
His First postwar job in Ottawa left little time for painting so he moved to Galiano Island with Molly and their young son, Alex. It was difficult to make a living there so Bobak took a position as Head of Design at the Vancouver College and remained there from 1947-1957. His paintings from this time have a strong sense of design and reflect the mysticism Bobak felt was an inherent quality of the west coast landscape.
In 1957, Bobak won a Royal Society Canadian Government Overseas Fellowship, which enabled him to give up teaching and paint full time in Europe. It was also during this year that his daughter Annie was born. While in Europe Bobak met with artists and attended exhibitions of Turner and Monet whose techniques in landscape painting he incorporated into his own work in that genre. The work of Oscar Kokoshka and Edvard Munch were also admired for their expressionism. Bobak's work is not imitative of other artists; rather he deftly incorporates aspects of their style for his own purposes. For painting to be meaningful to Bobak it must be based on an intuitive drive rather than an intellectual concept and relate to the artist's experience. Humanistic qualities and emotional experiences reflected in an artwork are what are important to Bobak.
Bobak became the Director of the Art Centre at the University of New Brunswick in 1962. In the 1960's he had a number of solo exhibitions in England and Norway. Among other honours, he received the Order of Canada in 1996.
Buying/Selling Bruno Bobak (1923- 2012)'s Artwork
We buy and sell Bruno Bobak (1923- 2012)'s artwork. If you're interested in purchasing artworks by Bruno Bobak (1923- 2012), please contact us as we may have available artworks which are not shown online.
Artist Search
Artists by Categories
Bruno Bobak (1923- 2012)'s Artwork
"Charlottetown"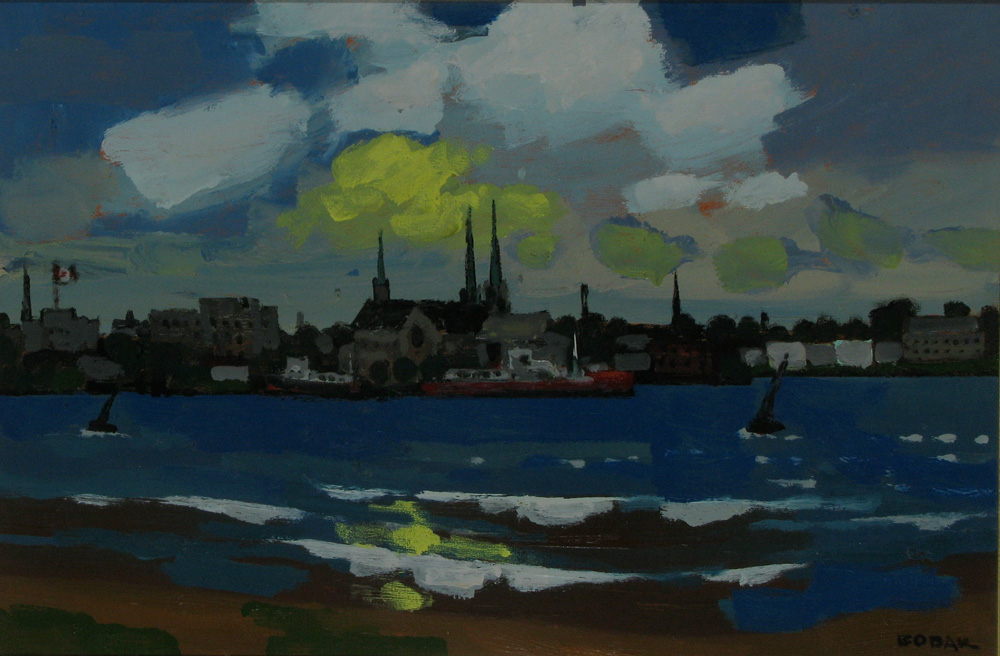 Oil on canvas
Signed;titled on reverse
16" x 24"
SOLD
"Elk Lake"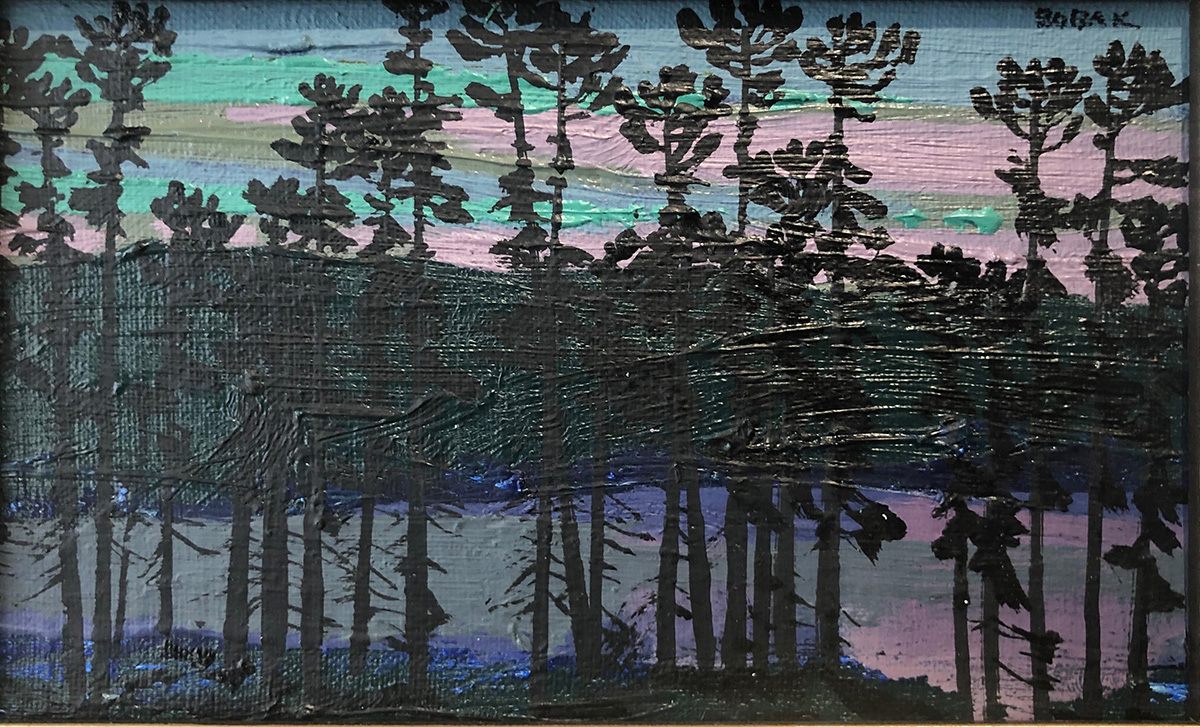 Oil on panel
Signed upper right; Signed and titled on the reverse
5" x 8"
Provenance: Private collection, Montreal
Kastel Gallery, Montreal
SOLD
Landscape with Brown Eyed Susans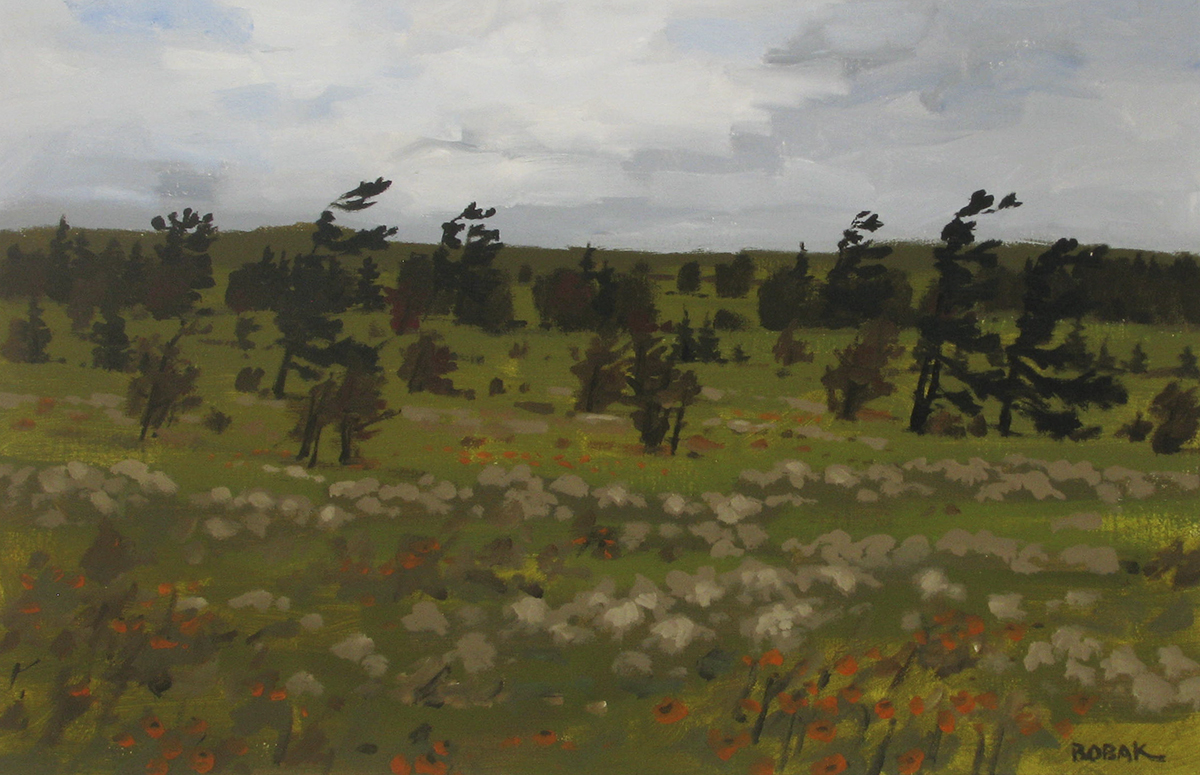 Oil on canvas
Signed lower right
Signed and titled on the reverse
16" x 24"
Provenance: Private collection,Montreal
Kastel Gallery, Montreal